Warehouse Clearance Sale! Everything is Just $5
I think one of the most fun books my sister Peggy and I wrote is The Phony Gourmet.
We found a bunch of Phony Gourmet Books back in a corner in the warehouse and we're selling them cheap! These hardback books will make a great gift and you save 75%!
The book includes 75 delicious receipes for SHORT-CUT cooking. These are meals you can whip up in no time at all.
You'll learn ways to use convenience-foods with top-secret combinations of your own fresh ingrdients that'll save you work without sacrificing taste.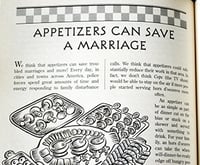 The Phony Gourmet motto, It's not WHAT you do, it's what they THINK you do!!!"
We even produced a pilot TV show. Unfortunately it didn't get aired, but it's very fun. If you purchase The PHONY GOURMET FOR JUST $5 plus shipping you can watch the show!
To check out other items on clearance go to www.cluborganized.com then to the Clearance Store.
Love,