Lettuce Bee Silly was the only book I wrote for children. Kids love poetry, that's why nursery rhymes stay around forever. When humor is added to rhyme, that's entertainment. Research shows children learn to read faster when exposed to rhymes.

Lettuce Bee Silly is a collection of my original poems, brilliantly illustrated by Hope Vinsonhaler. Some of the poems were written from a child's point of view like Bundled Up while others address problems like a kid's messy room, writing a thank you note, melted crayons and whiney behavior.
Lettuce Bee Silly will wake up the kid in you and entertain the real kids in your life.
The poems go from wacky, McKenzie McGreetit and whimsical, Alien Stinger Dude, to motivational, Don't Put it Off, to inspirational, A Pocket Full of Goodies.

And some are just plain silly like Snot Nosed Michael, The Cat Ate the Mouse, and Upside Down.

I think I've been channeling Shel Silverstein. Remember him? He wrote Where the Sidewalk Ends and Light in the Attic. Okay, I don't think I'm really channeling him, I just think a lot like he did and now that he's gone, I'm sort of playing in his brilliant shoes.
As you can see Hope is a very talented, young artist. She created such wonderful drawings for my poems that they begged to be in color. So, this silly poetry book is not in black and white like Shel's are, they're in full color!

Also, I'm offering a "Grandma special." If you order three books, I'll give you a fourth book free!
Just so you can see the quality of the book here is one of the poems.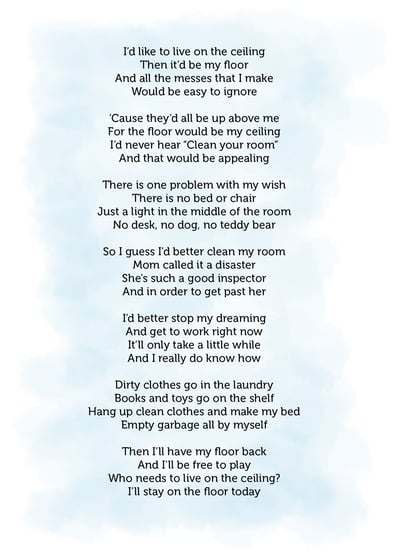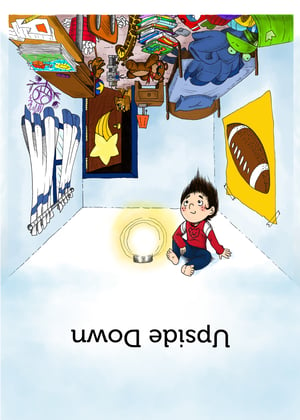 Copyright © 2015 Pamela I. Young
As you can see, my illustrator is very talented and you can see why her illustrations begged to be in color. So, this silly poetry book is not in black and white like Shel's, but then I have to keep reminding myself, I'm not Shel. One more thing you might like to know, Lettuce Bee Silly was printed in the USA!